Exclusive Interview: Daniel Humm scores a rent deal, will reopen Eleven Madison Park
Checking in with the one-time Best Restaurant in the World, six months into the pandemic-related shutdown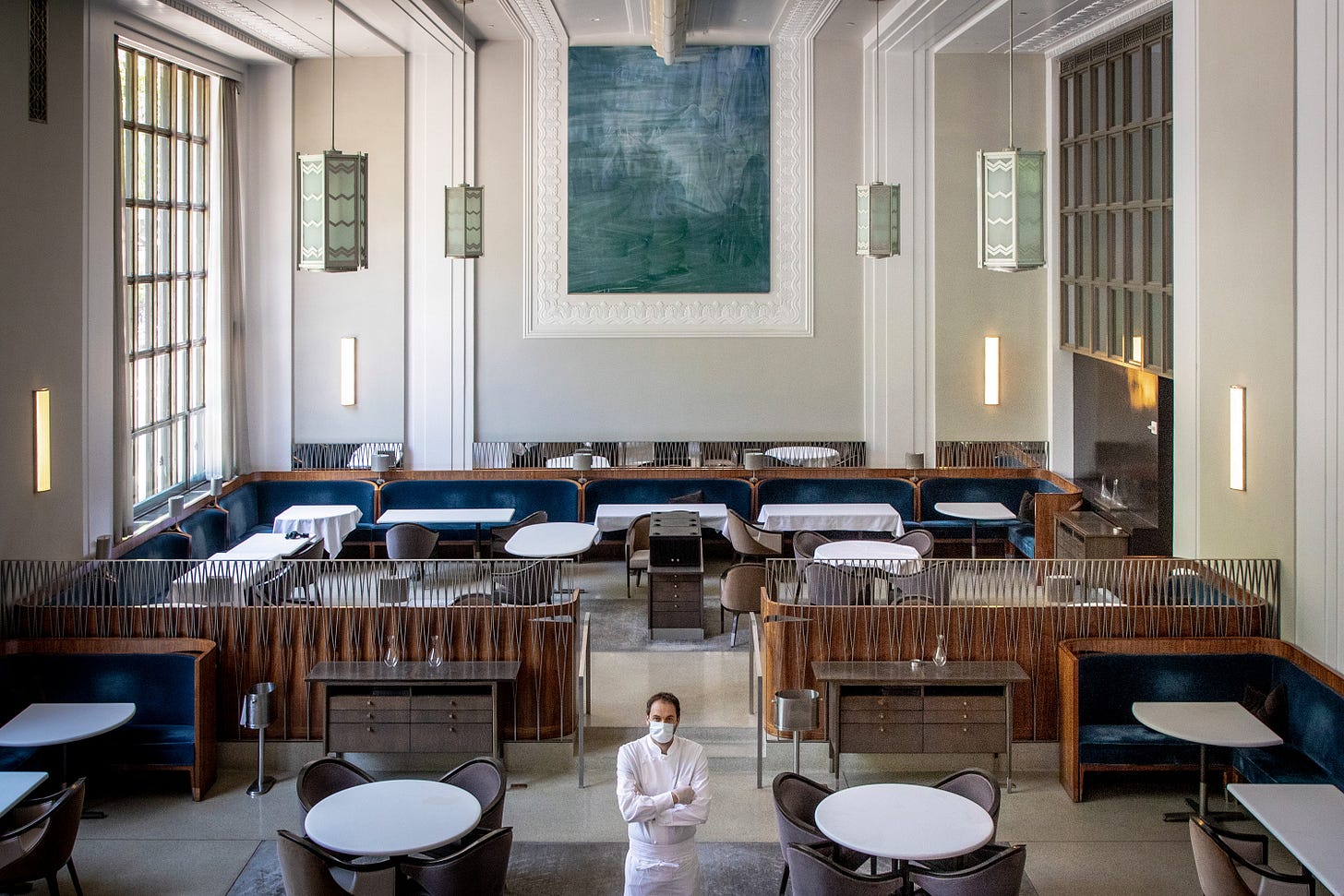 Last week, Daniel Humm made a cryptic post on Instagram, referring to the "next chapter" for Eleven Madison Park.
While the one-time best restaurant in the world has been closed since March 16, many other New York restaurants — even ones with multiple Michelin stars — have reopened for takeout and outdoor dining. Humm's $335 tasting menu is not exactly suited for a more informal experience, however, so instead the acclaimed restaurant has converted into a commissary kitchen, producing thousands of meals a day for a non-profit.
Meanwhile, the business was still bleeding money every month. In an interview with Bloomberg News in May, Humm even speculated that the restaurant might close permanently.
But now, Humm says, Eleven Madison Park will reopen. In an expansive interview, he told me the details of how he struck a deal with his landlord and bank to stay afloat. "Landlords have a lot of power in whether restaurants will come back or not," Humm said.
We covered a lot of ground. Read on for more inside baseball on managing a top-tier restaurant during the pandemic, including:
• How much money he's making this year;
• Why he returned his PPP loan;
• His fears about having to file for personal bankruptcy;
• When exactly the money ran out;
• The status of his project working on food insecurity with Rethink;
• His views about what organizations like 50 Best, Michelin, and James Beard should be doing right now
---
Please support independent journalism by subscribing to the newsletter. Thank you!
---
The Daniel Humm Interview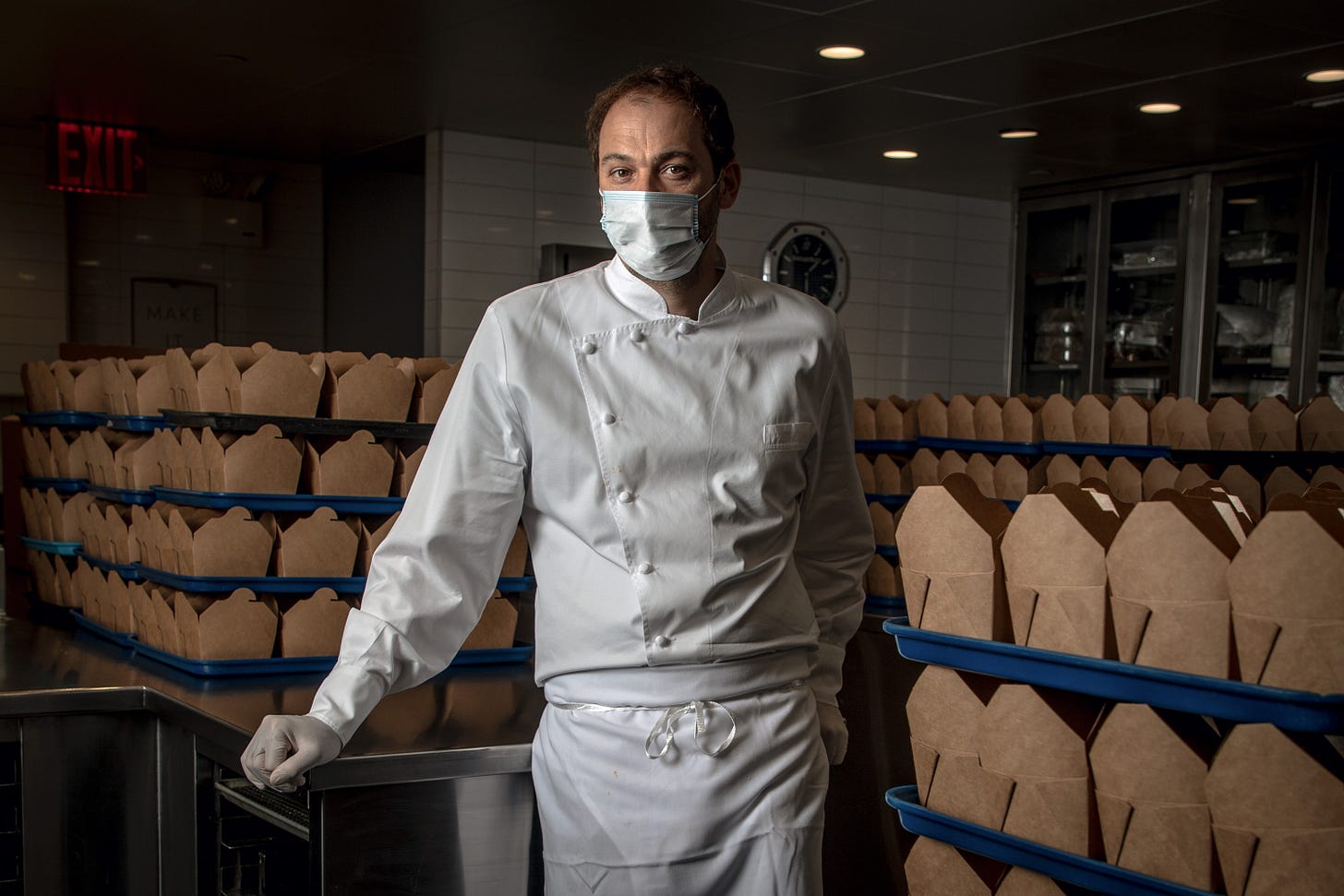 GARY HE: I wanted to check in with you because you've been posting some pretty cryptic things on Instagram lately. What's been going on?
DANIEL HUMM: For me, this time has been really, really challenging because of the financial challenges, letting the team go, and just the unknown. It's been tough to think about if there's going to be a restaurant or not. 
But I am happy to tell you that I've worked through everything and Eleven Madison Park will reopen. The landlord has been super accommodating and supportive, so we'll definitely reopen… I know that's unfortunately not the reality for everyone. Landlords have a lot of power in whether restaurants will come back or not. 
HE: The last time you were interviewed was by Kate Krader in May, when you weren't even sure whether the restaurant was going to reopen.
HUMM: Yeah, and I wasn't. It could have even ended up in a personal bankruptcy. The margins in the restaurant industry are really slim, so it's tough to really make a lot of money with this business. With the way that the restaurant business was wiped out in just weeks, I hope that people are gonna have a little bit of a different understanding of the reality.
HE:  Even you guys, at the highest level. I imagine your runway wasn't that great, right?
HUMM: No, we were literally out of money three weeks after the pandemic hit. Like, no more money.
HE: How did you get from that point to now?
HUMM: The landlord stepped up in a big way and that kind of made all the difference. The banks also. We have bank loans that we need to pay back, and the bank also allowed us to not pay until this is over.
HE: Wow. Okay.
HUMM: And so if you let your employees go, and you don't have to pay rent and the bank loan, things are not that expensive anymore. But it's tough, for me to not make a dollar for a year, that sucks. You know? It's a tough time.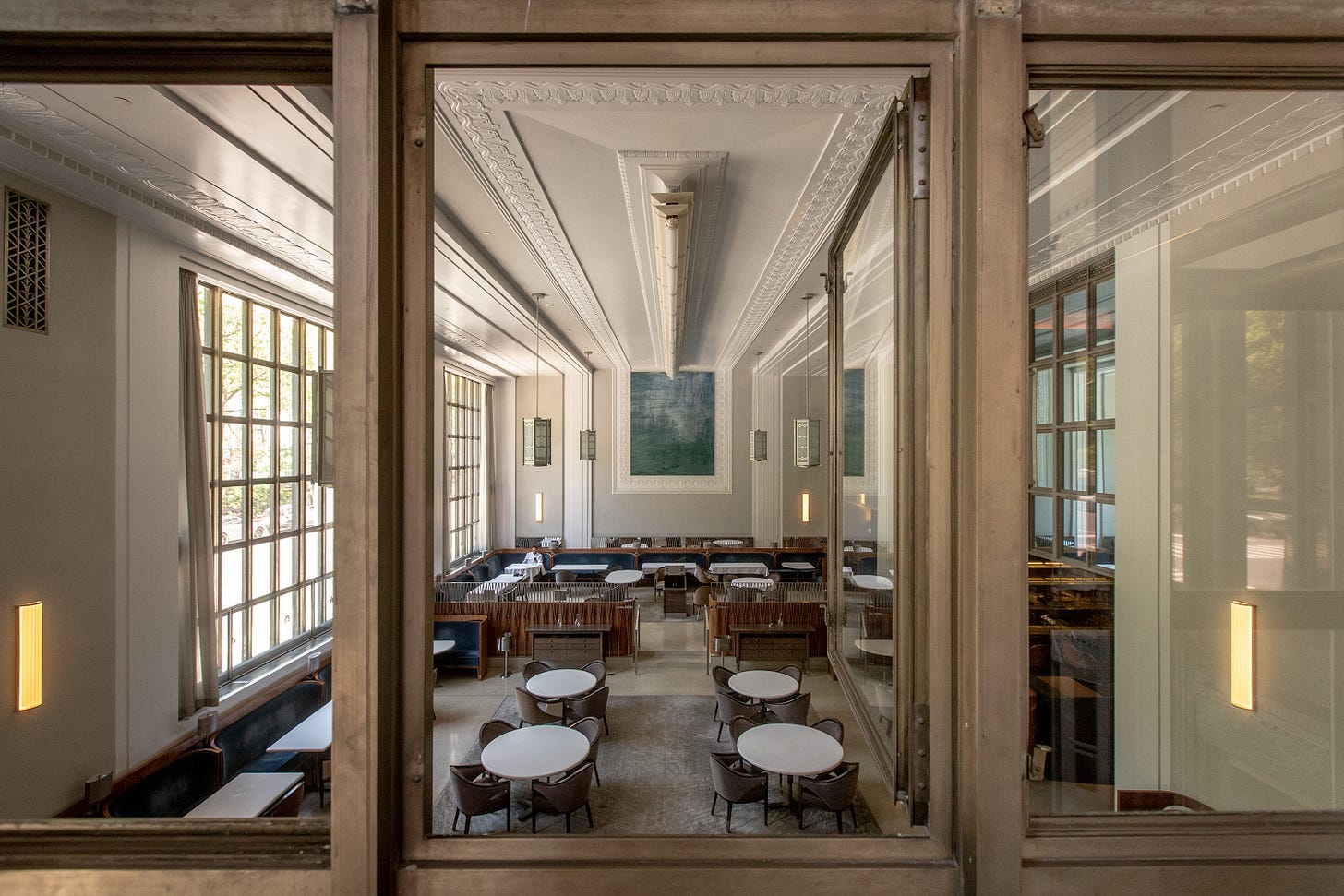 HE: People are speculating that indoor dining might not come back until the spring, or until there's a vaccine. Is EMP prepared for that?
HUMM: Every month that we don't open is really tough financially, for our teams. People have moved on, and moved away from New York. So it's heartbreaking that we will need to rebuild our teams. Some people, of course, will come back. But the longer this lasts, I think the more things are going to fall apart. 
In a good scenario, we'll open, I don't know, middle of November. And I think the worst case scenario is that we open in March, which will make it a year that we've been closed, which is unbelievable.
HE: You spoke about your former staff. Have you kept track of all of them?
HUMM: We furloughed pretty much everybody, like 250 people. We raised some money in the beginning for employees through the auctions that we did, but no one expected this to go on for as long as it has. 
HE: So do you still feel an obligation to the staff, or has everyone kind of gone their own way? I'm sure you've kept in touch with some of them, right?
HUMM: I'm definitely in touch. And people have been coming on board to help with Rethink, which has been amazing. 
There just wasn't another choice. We owed so much money to so many people, there just wasn't the money to keep people on. And I think that all restaurants are in that same boat. One of the problems is that we receive products, and then we use them, and then we get paid for it, and we only pay later. The way the model is, restaurants are always behind in paying. When money stops coming in, but invoices still have to be paid, the whole thing kind of falls apart very quickly.
HE: How many people are still on board?
HUMM: Through Rethink, we have about 14 people on board, and in our own company, we have about 10 people.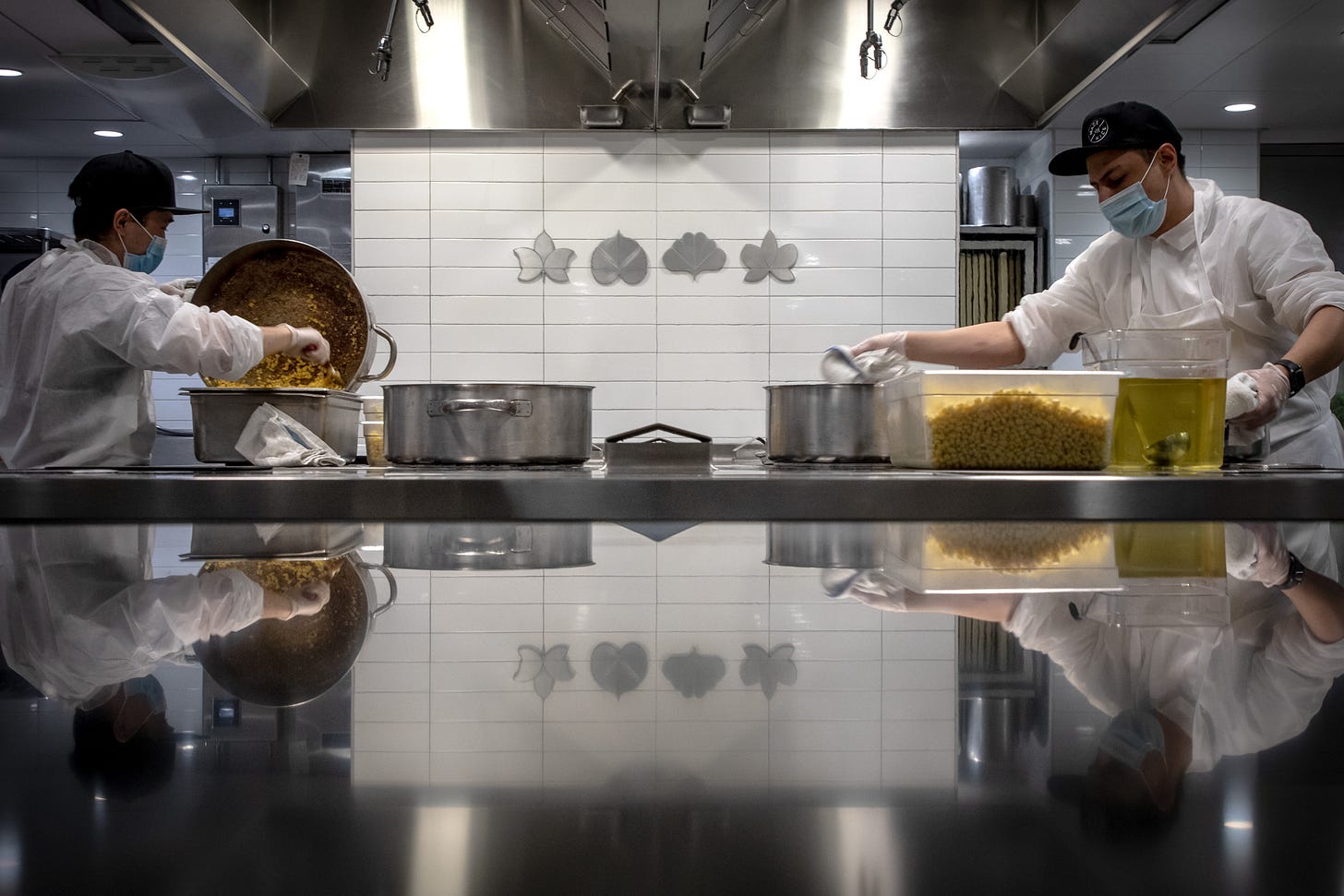 HE: So let's talk about Rethink. Where are you at right now and have you been able to see the impact of that work firsthand?
HUMM: We are currently doing about 4000 meals a day out of Eleven Madison Park. I think we've done around 400,000 meals since the pandemic started. 
I did some work at soup kitchens before we started the operation, because I wanted to learn as much as I could. And I saw that the soup kitchens started to shut down because it's all based on volunteers, and a lot of volunteers are elderly who didn't feel safe to continue this work. But also, soup kitchens are not high end, some of them are a little disorganized. When we started doing the work, I realized very quickly how efficient we were because we're all professionals. We were able to ramp up pretty fast.
I also realized that every chef is in contact with farmers and suppliers on a daily basis. The problem with food insecurity is not that there isn't enough food. The problem is that the communication is not happening. Farmers are throwing out food, restaurants are throwing out food, supermarkets are throwing out food.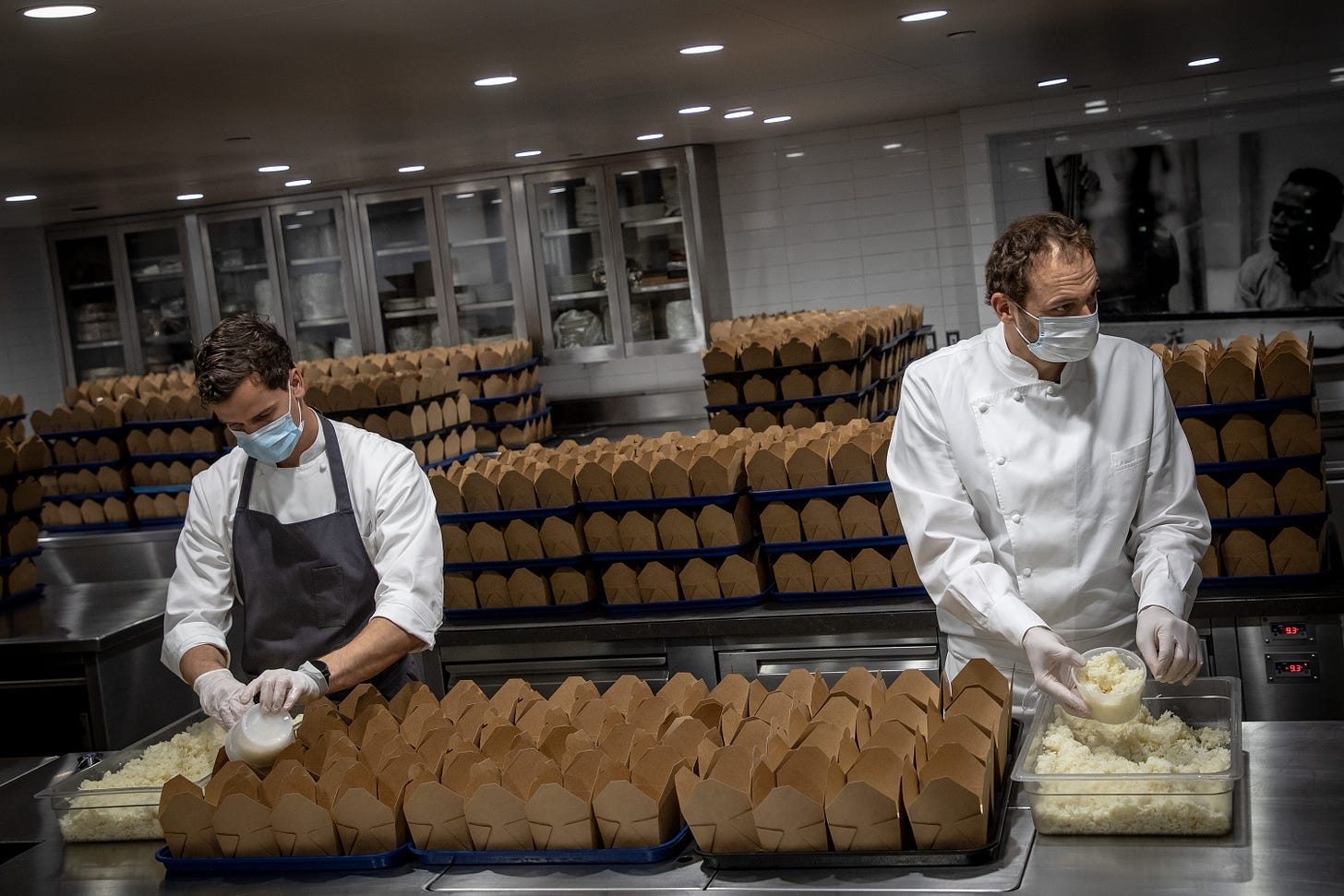 Every person in a restaurant knows how to produce an inexpensive, delicious meal, because that's how we feed our staff. And so I thought, what if we could extend family meal on an ongoing basis? Not just during the pandemic, but when this is all over. I asked myself, why have I not been involved with this before? I felt kind of guilty. 
With Eleven Madison Park, the one argument I will never win is, but what about the price? It's not very accessible, is it? And I will never have an answer for you that will be satisfying because the price is not accessible. It is expensive. I think for luxury to continue to be relevant, they need to have a higher purpose than just selling the luxury product. So, if under one roof, Eleven Madison Park, we can do food as an art form, as well as produce meals for people in need, and if every restaurant gets on board, we won't have hunger in this country.
HE: So you're okay with people holding your feet to the fire if a year from now, everything's kind of back to normal and people expect some of these things to still be happening?
HUMM: One hundred percent. Yeah.
HE: I know that in the beginning, the project was funded by American Express. Is that an ongoing thing? Are there other sources now coming in?
HUMM: Since then, we've been able to raise a lot of money. Of course, we need to continue to raise money. But we're talking about programs with American Express, for example, when someone spends money in a restaurant using their credit card, that maybe a small percentage of their money goes towards Rethink. 
There's a lot of government money that goes toward food insecurity. But some of the current systems of these food pantries and stuff are so antiquated that if we can prove our system, then we believe that money will be available to us.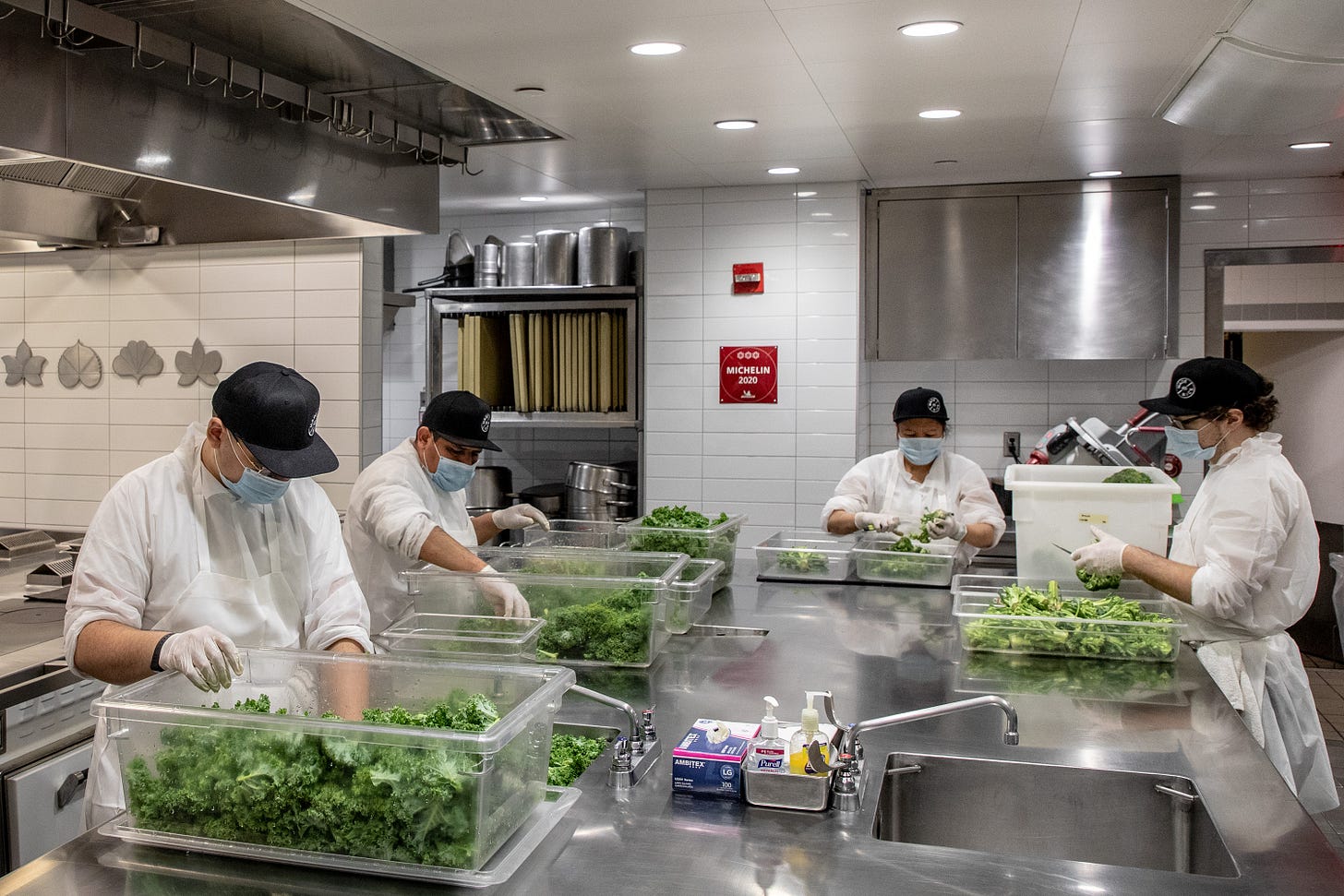 HE: Speaking of the government... Eleven Madison Park has more resources at its disposal than most other restaurants. Do you think the government did enough to help regular restaurants? What can the government do, six months later?
HUMM: I think that in New York, there is something happening where a landlord is better off having an empty space than making a deal with the restaurants. That should change, sort of an empty storefront law. When you walk down any street, like Madison Avenue where I live, half of the stores are empty, and that's a disaster. 
I wish PPP loans would have been a little bit more thoughtful in terms of the usage and the timing of the usage. Because in our case, it hasn't been beneficial at all, because we're still closed and you need to use the money within like 24 weeks or something. It just wasn't something that was beneficial to us. 
HE: Did you return the money? Or did you figure out how to use it for some other purpose? I mean, it's a low interest loan, right?
HUMM: Yeah, but who needs another loan? We couldn't afford having more loans, so we actually did return it. 
HE: I was reporting the other day that Michelin has returned inspectors into the field. You guys are not even open yet. Are you in contact with them?
HUMM: No, I haven't been in contact. I think right now, there's no point in testing restaurants as we're going through a crisis. I don't know if that's what they're doing, but that wouldn't be right. I think a lot of bodies like James Beard, 50 Best, Michelin, have to look into their system and certain things have to evolve. I believe these organizations need to have higher purposes as well. 
HE: One last question: people have been saying that New York City is over. What do you think?
HUMM: No way. No Way. New York City is the greatest city in the world, and New York will always come back. It might change, but in my opinion, New York City will be a better city. 
Like Soho, for example, started to feel like that shopping mall in LA called The Grove. All the artists, grittiness, the creatives, and the stores that were interesting and just one-offs—they were all pushed out. So I think New York became kind of boring and a little bit like a shopping mall. 
Now, I heard that rents are dropping 30%. This will allow a new young generation to come in and be creative and hopefully bring it back to a little bit more where it once was. I'm very excited for that.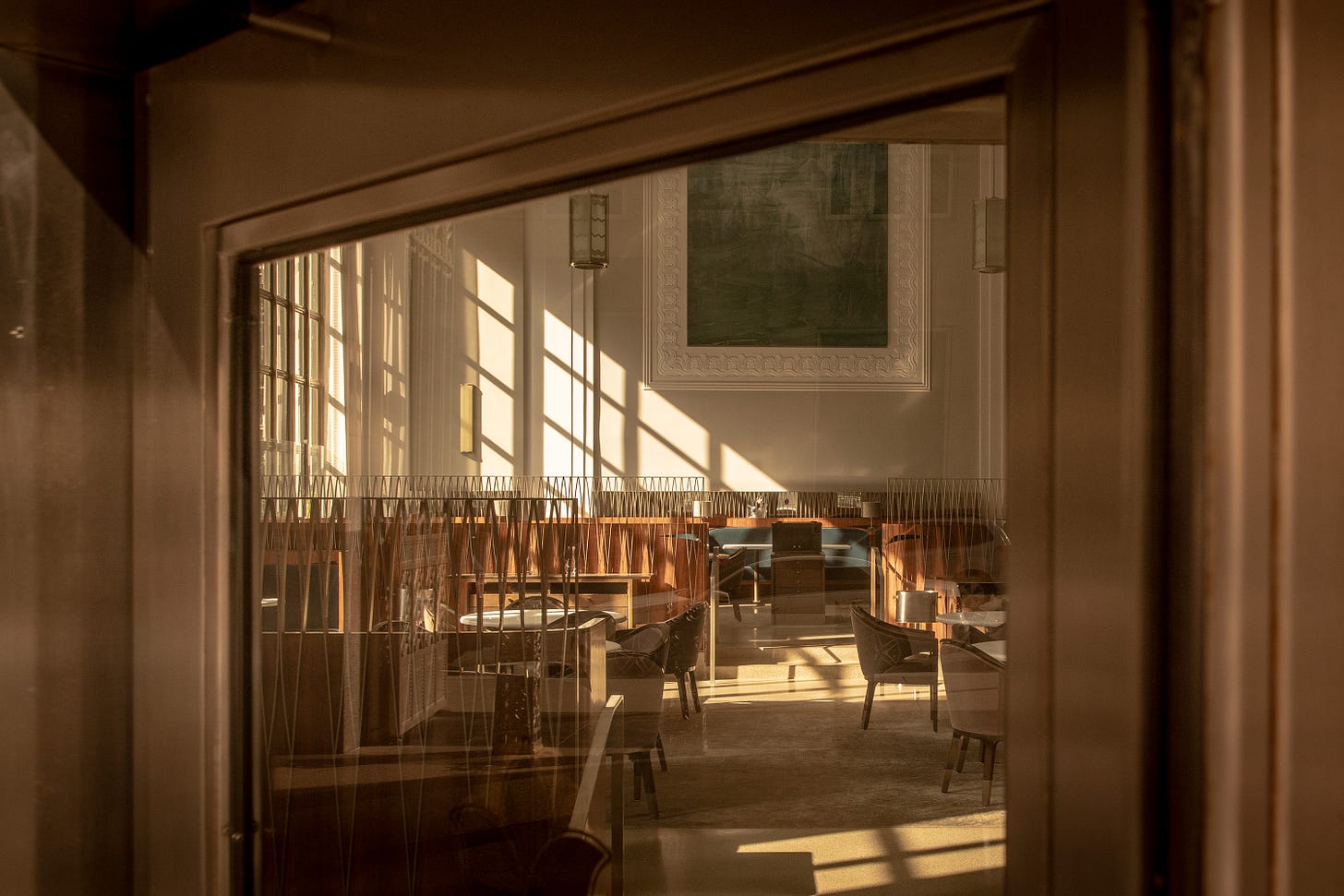 -30-
---
Please support independent journalism by subscribing to the newsletter. Thank you!